Welcome to the Early Years Foundation Stage Unit at Wold Newton Foundation School
Staff members in the Foundation Stage
Class teacher - Mrs R Gilson
Nursery Nurse - Mrs J Ibson
Pupil Support - Mrs N Emmerson
A huge THANK YOU to the members of the PTA who gave the FSU a donation to buy some new, and much needed, resources.
We are all very grateful and look forward to using them all in the future.
BEEP BEEP! DAY - 27th June 2018
The children were raring to go, with their pedals posed, at the start line for our fun charity event to raise money, and awareness, for Brake - the road safety charity. We had a lovely morning and yet again the weather was beautiful and many parents came to support us - thank you.
We have raised over £50 (to be confirmed) for Brake who support children who have been involved, or are affected, by road traffic accidents.
Sports Day - 26th June 2018
We had an excellent Sports Day in the glorious sunshine with lots of support from parents and their families - thank you.
We are so proud of all the children, and toddlers, who took part in such hot conditions. We had a fantastic afternoon and the children put so much effort into each race and supported each other with cheering, clapping and encouragement. Well done everyone.
Many thanks to Mrs Ibson, Mrs Emmerson and the year 6 children who helped make the afternoon a great success.
We joined Class 1 to look at, and learning about, Mr Pinder's ducks and Mrs Thompson's tortoise.
It was lovely to see, hear and touch these live animals and hear some interesting facts about them. Many thanks to both parents for giving their time to bring their animals into school.
The children have had a super busy week learning about the royal couple - Harry and Meghan - and enjoying a range of wedding based activities.
They looked at three different styles of wedding dresses from three different time periods and made comparisons. The children dressed up and took on different roles to act out a wedding ceremony, including a super range of wedding music provided by Mrs Ibson: there was some lovely dancing by the happy couples! The red, white and blue play-dough was very popular and the children made lots of wedding cakes and buns to share with the guests. This led onto designing a wedding cake and mixing powder paint to make secondary colours to paint each design. Wrapping presents was very popular, as was designing a pair of knickers for the Queen after reading the story The Queens knickers!
The whole week was finished off with a picnic lunch outside.
The first of May brought a visit from the local police force.
Mr Chapman, Emily's dad, and his colleague kindly came into school with a patrol car and a vast array of equipment for the children to experience. The children were able to sit in the car, with blue lights flashing, and try on the different helmets and hold the equipment. There were handcuffs, batons, gas masks, a stab vest and a fire retardant jacket. We all say "thank you" for the lovely informative visit.
We had a lovely surprise this week when Ebony brought some beautifully hand knitted dolls clothes made by her talented Gran. They are amazing and fit the dolls perfectly.
We all are very thankful and we think we have the smartest dolls in town!
The children have been working hard this term on their ball skills and really enjoying acquiring new skills.
Week 1 began by rolling the ball to a partner developing the understanding of force and aim. They also took turns to roll the ball at a target to knock the target over.

Week 2 focused on throwing and catching - catching proved to be a challenge!

Week 3 the focus was bouncing. The children began by using two hands to bounce the ball onto a target marked on the floor. Moving on to bounce the ball across the floor to a partner.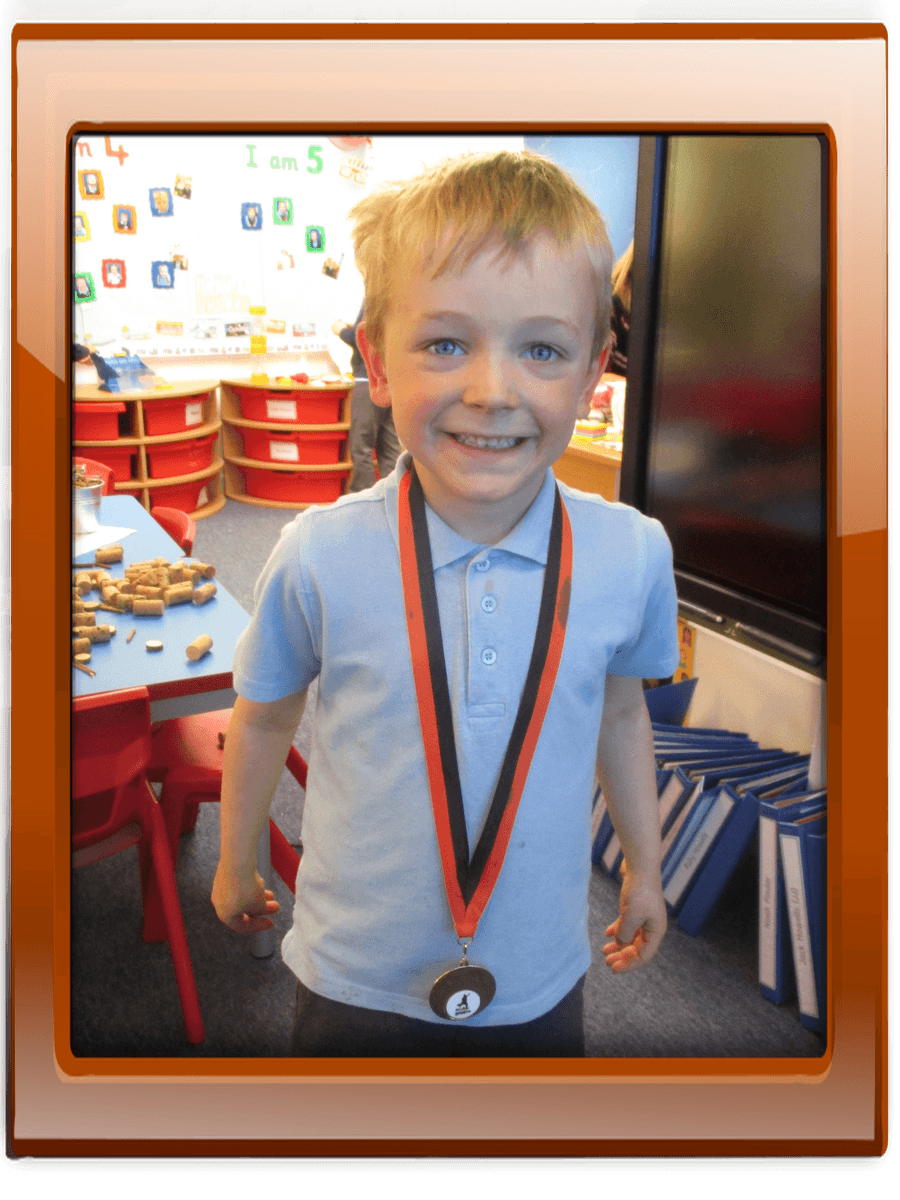 A beautiful sunny day to say 'hello' to two beautiful lambs. Mr Kinnes kindly brought these orphaned lambs to school. As yet the lambs don't have names but Mrs Kinnes is busy thinking of names to suit their characters.
We thank Mr and Mrs Kinnes for taking the time to bring their beautiful lambs into school.
Mrs Blyth kindly brought the hedgehog back into class for the children to see how plump he had become. He has gained enough weight to be released back into the wild. The children asked lots of questions and found it fascinating how he curled up to protect himself.
We would like to thank Mrs Blyth for enabling us to see the hedgehog close up.
Trophy Assembly
Well done to those children who received an award for their hard work during the Autumn term.
Father Christmas took a break from his busy schedule to visit us on Christmas party day!
He kindly gave presents out and wished everyone a Happy Christmas.
The first SNOW Day of the Autumn term 2017 was cold, but super fun!
The children collected snow, made snow castles and snowmen, chased each other, used the water tray as a snow plough and through snowballs at the wall to see who's was the highest!
So much learning and fun was had by all.
* Children In Need *
The children had a super day for Children In Need. Many of the children came dressed in spots and enjoyed a range of activities, including face painting, colouring, making Pudsey Bear masks and ears and of course biscuits and hot chocolate.
The children had a spooooooky time at the Halloween disco!! Take a look at their amazing costumes.
Let's Mark Make ! Let's Draw ! Let's Write !
The children have used different learning areas and media to develop their literacy skills. They have used chalk both inside and outside, painting with brushes, rollerballs and on the easel, play dough and different pens and pencils.
Lots of busy children learning through play.
Recycling Day - The children had some wonderful ideas on how they could use the recycling materials. Beau made a Combine Harvester - Jacob made a car - Ebony designed and made a robot - Dallas made a crocodile.
We love to read, read read !
Sponsored Obstacle Course
It was unfortunately a wet and chilly day on September 29th but that didn't dampen the children's enthusiasm for the Sponsored Obstacle Course run and organised by the PTA.
The children had great fun and were incredibly keen to complete additional laps of the course despite the wet grass and equipment! Well done to everyone who participated and thank you to the PTA for arranging the event and raising funds for the school.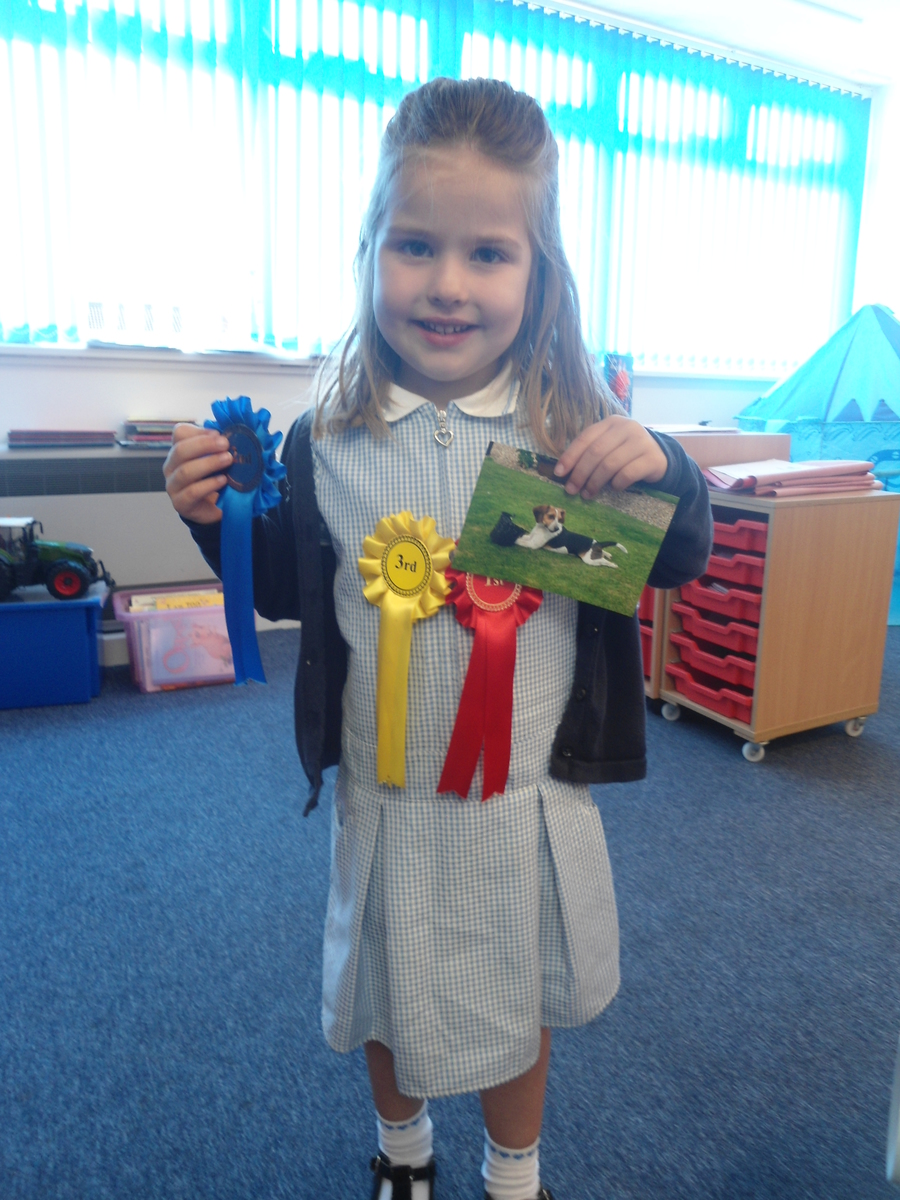 Ebony entered her dog Hattie into a local dog show. She did extremely well and won three rosettes! Well done Hattie and well done Ebony.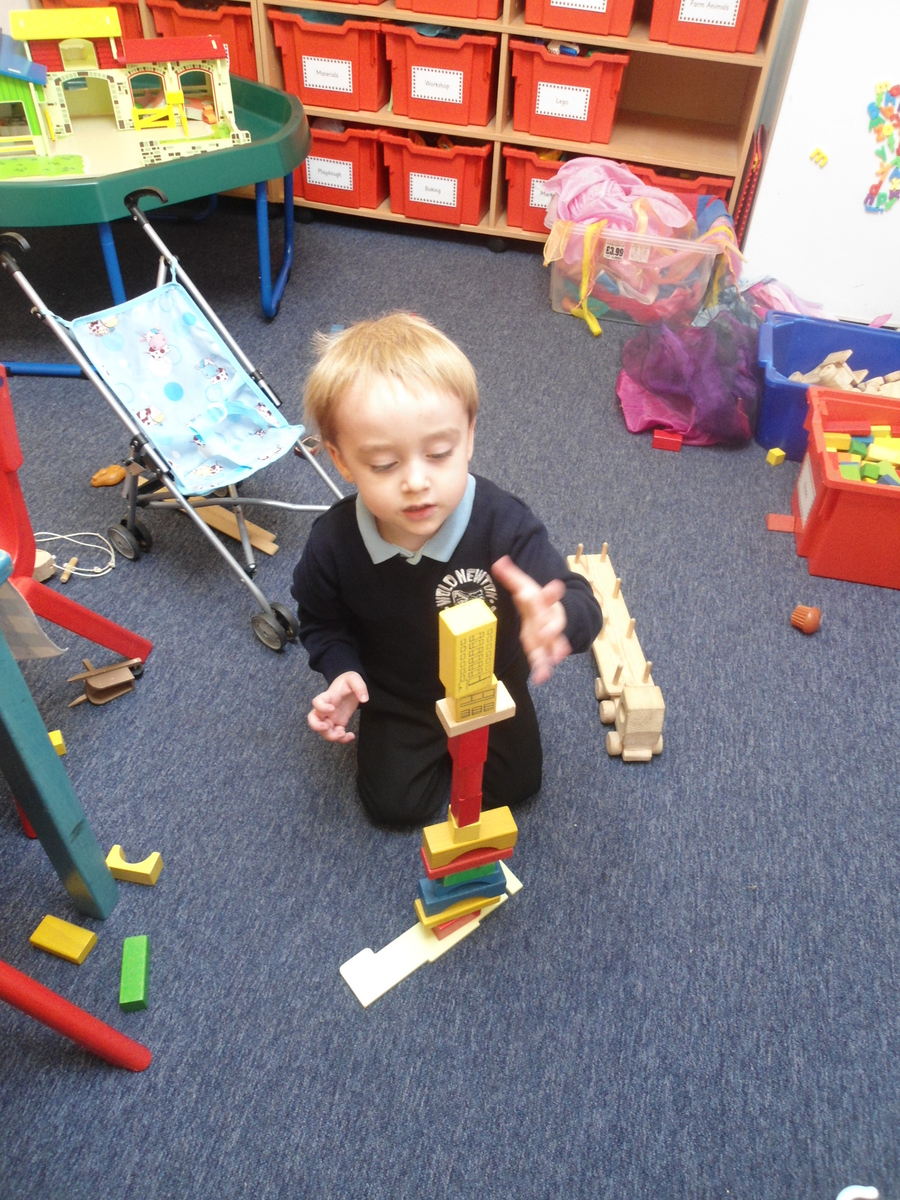 Sebastian has been busy constructing tall towers using the coloured blocks. He carefully balanced each one to see how high it would reach.
Great building work Seb! A building designer in the making.